The 99 Club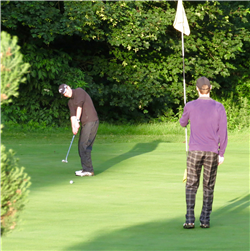 What is it?
Its 9 Holes in 90 Minutes - golf's answer to cricket's Twenty20. Perfect for busy business people or those with young families… evening golf in the summer.
What does it cost?
Just £299 per year

What are the rules?
Play anytime, any day after 4pm
Summer club night on Thursdays, get an official handicap (occasional BBQ)
Winter golf - after 12 noon on Sunday (Nov-Apr)
Bar card with 15% discount and initially loaded with £9.90
Play other times at guest green fee rate.

Check out our other membership offers…call Pete on 07900 215614 for friendly advice on the best option for you.